Cookie dough from Let's Dough it Ready to Eat!
Are you also someone who, before the cookies are even on the baking sheet, has already taken a bite of the cookie dough? You are certainly not alone in this, as evidenced by the great success of Let's Dought it. Cookie dough that you can eat.
Lovely and something different for a change.
Let's Dought It
Are you someone who likes to eat the dough before the cookies are even in the oven?? But also know that this is actually not good because of the raw egg in it. Then Let's dought it, you can eat their cookie dough without having to bake it first!. Unlike 'ordinary' cookie dough, this dough contains no raw egg and uses heated flour.
This makes the dough 100% safe to eat. Now this cookie dough menu changes often, after all, there are so many delicious flavors to think of. On the site you can find the complete Cookie Dough Menu.
And believe me, making a choice is hard, because the pictures's alone will make your taste buds work.
Cookie dough in a tray
Previously, we have been introduced to the cookie dough of Let's Dought it. Then we were already very enthusiastic about this surprising treat and again the flavors are delectable. While last time I attempted to bake cookies with this Cookie Dough, this time the boys asked me not to and they could just eat the cookie dough and I can understand them.
The Cookie Dough as is is tasty enough and that is partly because of how they are served. That it is a shame not to spoon out like this.
Eat this way or bake cookies
The cookie dough comes in cardboard containers with a clear lid, this lid is shaped to keep the goodies on the Cookie Dough whole when transporting the cookie dough. Now you can choose what you do. Either you just spoon the dough out of the container and eat it, you can make balls of it with an ice cream scoop, freeze them and eat them later as desserts or bake them into cookies.
The site describes exactly how long this should then go in the oven.
Several surprising flavors
The flavors of Cookie Dough we were privileged to receive this time were :
Chocolate Chip Milk
Toppe'Dough Banoffee
Velvet Bueno
Vegan Cinnamon Cake batter
As I already wrote I did not use the dough to bake cookies this time, although this is super easy too. All of us here at home think that cookie dough is tasty enough as it is and it is a treat to scoop out these trays. The dough's texture is exactly what you expect from dough. It's solid and the taste is full.
Especially the Toppe'Dough Banoffee had a very distinct banana flavor and was the favorite at our house.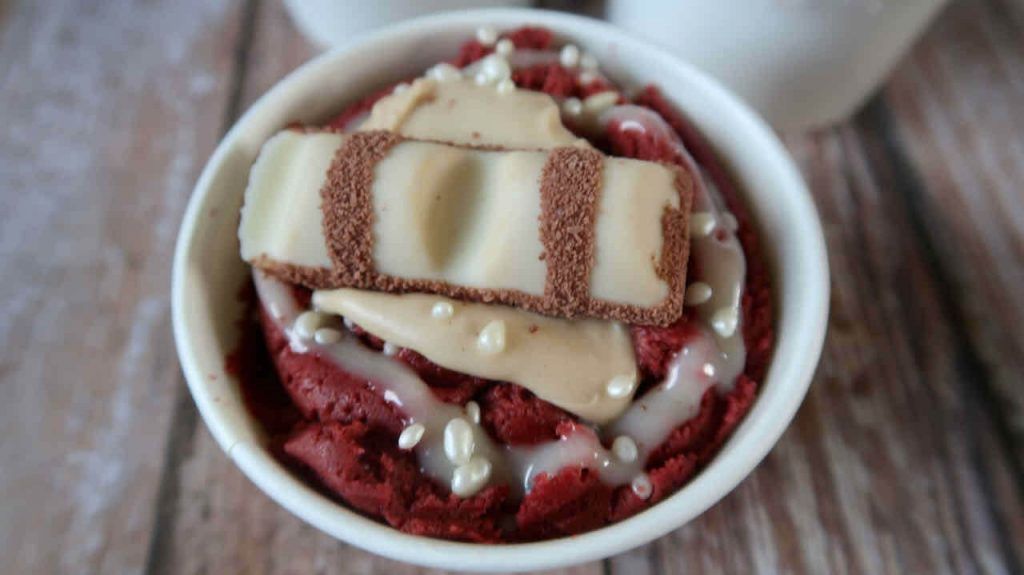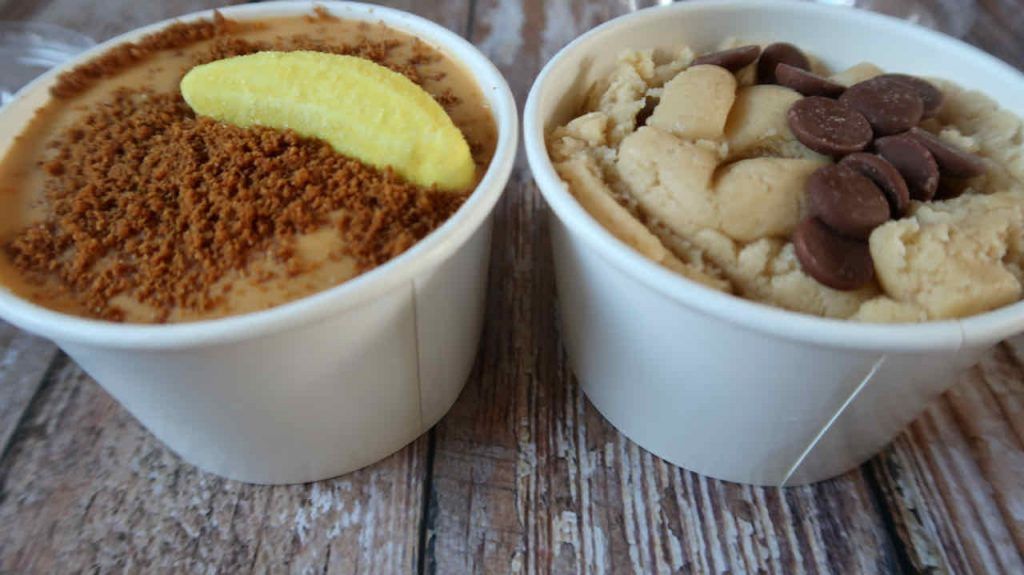 Vegan Cookie Dough
Cookie dough from Let's Dough It is also for sale in Vegan variant. Vegan cookie dough is just as delicious as the non-vegan version. Soft and creamy, and full of flavor! This cookie dough was prepared without animal products, so it contains no egg or milk
Also delicious as a snack or for on bread
In addition to the trays of Cookie Dough you will also find an assortment of Snacks, think of a deliciously creamy Fudge Bar (this one is so incredibly delicious, really try this one), Bastogne Party, a Twixie bar or Cookie Dough macarons. But also for on bread you will be fine with Let's Dough it. With the Kinderella paste: white chocolate hazelnut paste.
This is also so tasty. It is a deliciously creamy, sweet, white chocolate/hazelnut paste that contains a whopping 10% hazelnut. You eat it on your bread, on your pancake, with your ice cream, through your yogurt, on cookies, cookie dough, cake or just like that; with a spoon. Really after a sandwich you want more.
What a full and creamy flavor and really not only the kids are fans.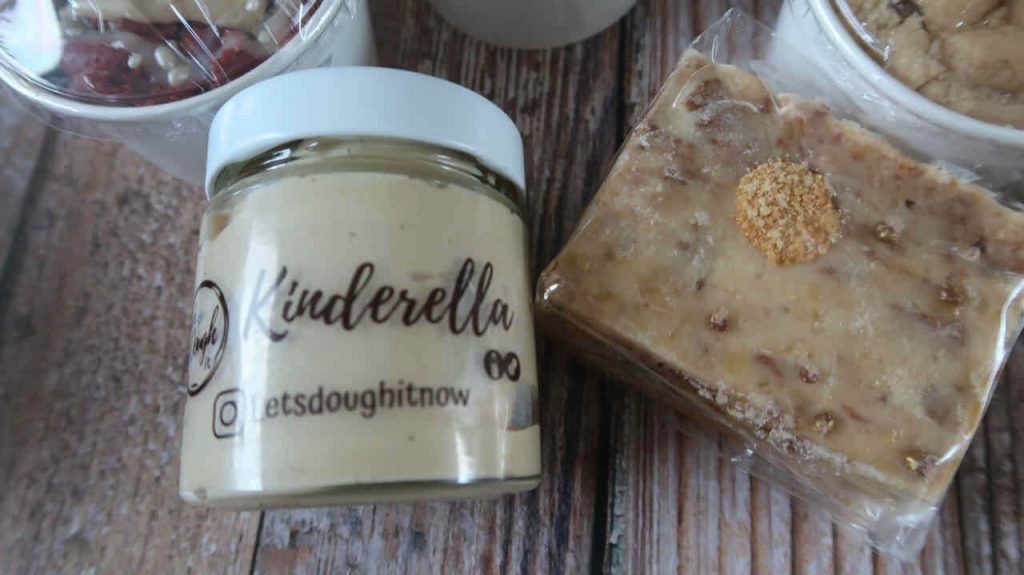 Sinterklaas party
Do you want Sinterklaas something other than the standard pepernoten, but completely in that Sinterklaas atmosphere remain order a special Sinterklaas box at Let's Dough It now. A box filled with Cookie Dough, filled speculoos, chocolate letter, fudge bar , speculoos paste and marzipan. You are ready in one go with all the Saint goodies, but be sure to keep an eye on the site of Let's Dough It, because they often come up with special boxes.
Order with discount
Curious about this cookie dough from Let's Dough It order with 10% discount with the code LODIBLOGT10 (The code is valid on the Cookie Dough menu, at any size).
Beware, addictive!
Baking cookies is of course super fun to do. But do you love the dough in the mixing bowl?? Would you rather eat all this already, but have you always been taught that this is not healthy because of the raw egg it contains??
You can eat the cookie dough from Let's Dough It without any problems because there is no egg or milk in it. The cookie dough comes in cardboard trays that you can scoop out deliciously, alone or all together. You can find all the tips on baking and storing the Cookie Dough on Let's Doug It site.
But beware! This cookie dough is addictive!