Inspiration monochrome nursery
Looking inside houses, scouring the internet for goodies, looking at home decoration magazines, I love it. Get inspired and dream away at the most beautiful rooms. Over the past few weeks I've shared with you the kids' rooms. This time I snooped around some great webshops. I found the most beautiful accessories for a monochrome nursery.
You know, the black and white trend of the moment.
Monochrome nursery
You see it a lot in fashion, the trend of the moment: monochrome. White pants with graphic black prints for the little ones. Black jerseys with white text, you'll find it all. Especially on instagram you can indulge yourself if you love monochrome. The fashion trend has carried over to the interior as well.
Many a baby has an awesome black and white baby room, but you can have fun with older kids, too. So for this inspiration article, I went looking for the cutest accessories for your monochromatic nursery.
Must-have; the mini-wardrobe
How cool is that, a mini-wardrobe. A small rack to hang up your children's clothes. Style the clothes for the next day and hang this set ready.
Also handy for dads's who otherwise make special combo's. (I do not mention names) You can buy this rack at the webshop Ikbenzomooi.nl. Also highly recommended to take a look.
Of course there should also be a nice lamp in your monochrome nursery. We recommend this crazy panda bear (picture 2) from Hikjesinhuis.nl. Also available as a white bear. Although I think the panda itself is really the cutest. (€29,95)
I think the poster 'Eyes closed' of Saartje Prum is very cute. Great for hanging above the crib or dresser in a baby's room. (€14.95 per 2 pieces)
To store all the toys quickly and stylishly these paper bags (picture 4) are very suitable. They are very strong and even stay empty. There are several prints available and the biggest one is 80 cm high. This one you also buy at Ikbenzomooi.nl. (€14.95 for the largest)
Monochrome combination
Black and white is great to combine with shades of gray or even a pop of color. Below you can see that gold or bronze even looks cool with it. It makes your monochrome nursery a little bit different from the rest.
On picture 5 you can find for example a very cute cloud cushion. This pillow is available at Grasonderjevoeten.nl. (€33,00)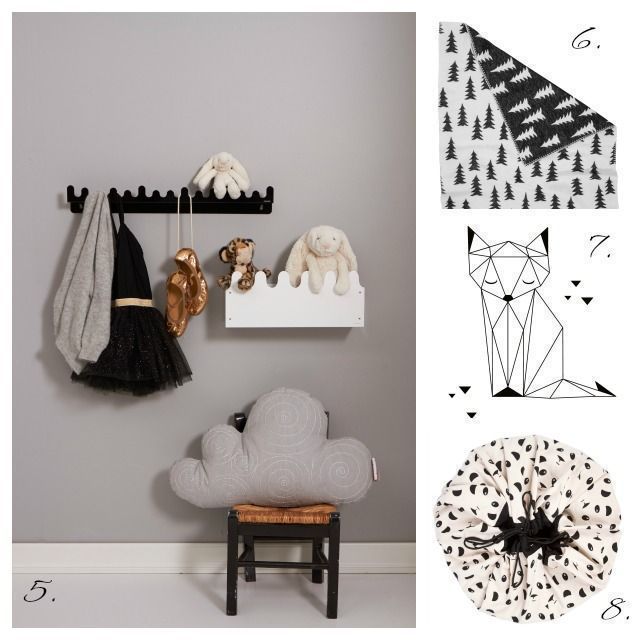 A warm blanket should not be missing in your nursery. The beautiful blanket with the trees on it can be found at Ikbenzomooi.nl and is made of 100% organic cotton. Wonderfully warm and soft. (€59,00)
A monochrome nursery can't do without a cool print on the wall. This awesome fox poster (image 7) can be found at Grasonderjevoeten.and will cost you €14,95.
About the Play&Go play bag I wrote an article before. What an ideal article. A big bag that you can fill with toys and take with you. If you want to play, just open the cord and it becomes a play mat. They make me happy and my children have them themselves.
Get this (image 8) panda print at Grasonderjevoeten.en for €34,00.
Where do you get your inspiration for decorating? Or maybe you have a monochrome nursery in your own home?
♥ ♥ ♥ Fulltime Mama uses affiliate links. This means that if you click on one of the links, we may get a small commission on it. It costs you nothing extra, but it does give us something extra. With these proceeds we can maintain this website. Also, sometimes we get paid for an article or we get a product in exchange for a blog post.
Our opinion remains unchanged and honest. For more information you can read the disclaimer. ♥ ♥ ♥