B.Nosy children's clothing that almost makes you want to 'twinning' do it
Oh no! Hold me! I've spotted something I really want to spend money on again.
An awesome kids clothing brand that you can dress your whole bunch of kids with. I love it, brands that have clothes for boys and girls and from size 62 to 170. Ideal anyway! You would almost go twinning.
Almost then. Let me show you my favorites from the summer 2016 collection.
B.Nosy Children's clothes
B.Nosy is another one of those's fun kids fashion labels. The nice thing about this brand is, besides the crazy prints and colors, that it is available in sizes 62 to 170. So you can dress the kids for a long time in this fun brand. I think it's ideal because I've come across a great brand before, my little man loved dressing in it, he got bigger and I had to say goodbye to this brand. Purely and simply because the clothes were only available up to a certain size.
No problem with B.Nosy.
Twinning
No, twinning is not a strange act or anything like that. Twinning is a trendy name for the phenomenon 'we-wearing-the-same-clothes-but-aren't-twins'. You see this more and more.
Brother and sister wear the same clothes, mom and daughter etc. Well I think that's a bit excessive but of course you can dress them in the same style. Because B.Nosy is available for young and old and boys and girls can go wild with it.
I cut and pasted some nice sets together.
Nice and summery
I can already see my youngest in that cute little dress. Great for when we go to Costa Rica and of course with summer coming up. I dress the little man in those crazy yellow shorts with a cool cardigan for the colder evenings.
If you have a bigger girl you can find at B.Nosy also fine accessories such as scarves with fringes.
Peach perfect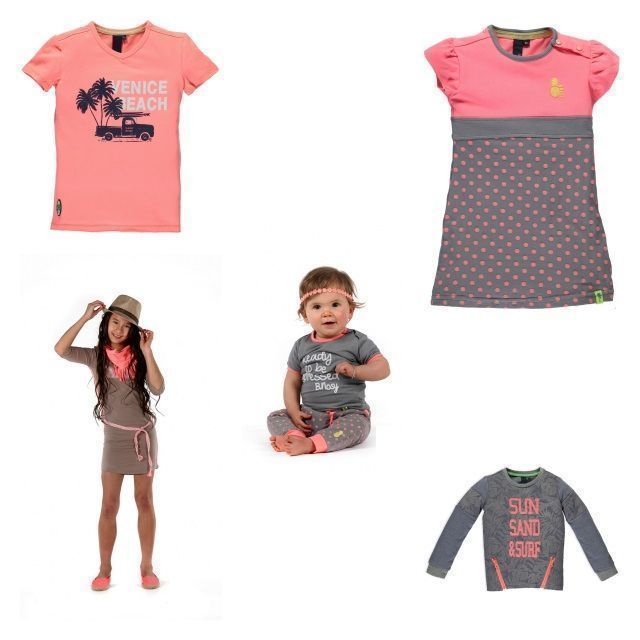 Another one's awesome color scheme. These colors look great on my blond little man. Nice and summery and with such'n peach color he also seems extra brown.
I will definitely go shopping at B.Nosy.
For all information on prices, sizes and points of sale check out the website of B.Nosy.
Did you know B.Nosy already? Do you ever do twinning?
♥ ♥ ♥ Fulltime Mama uses affiliate links. This means that if you click on one of the links, we may get a small commission on it. It costs you nothing extra, but it does give us something.
With these proceeds we can maintain this website. We also sometimes get paid for an article or receive a product in exchange for a blog post. Our opinion remains unchanged and honest because of this. For more information you can read the disclaimer. ♥ ♥ ♥