Discover Giethoorn- A fairytale place by the water
How beautiful the Netherlands is, many have (re)discovered in recent years. Yet there are also places you might not think of going to so easily. Perhaps because they are very touristy. Yet these places are really worth visiting. Like Giethoorn.
Discover Giethoorn, by boat or on foot. Read my tips for a real day tourist in your own country here.
Discover Giethoorn, a watery and fairytale place
Where can you find a place in the Netherlands where you are surprised by the beauty of the houses, narrow walkways and cute little bridges?. Where you imagine yourself on a movie set and you can walk undisturbed because there are no cars's driving, but with a boat through the canals can sail? That's Giethoorn. There are no highways in the center of Giethoorn. You leave your car in one of the large parking lots on the outskirts of Giethoorn.
Next you can discover Giethoorn while walking, but actually a boat trip should not be missed.
A day out in your own country
Together with a group of bloggers, I was invited by Esmée from Blogger by Nature to come to Giethoorn for a weekend. And despite the worse weather forecast, I was incredibly looking forward to this weekend, because Giethoorn was unknown to me. At least, I have been there once but that was so long ago.
The weather was changeable, besides a few showers, we also saw the sun. Actually ideal weather to discover Giethoorn, because it was incredibly quiet. What you can discover in Giethoorn.
You read it here.
Sailing through the canals of Giethoorn
Giethoorn really is a fairytale place. Walking the narrow walkways or sitting in a boat, you imagine yourself in a movie. The houses are so beautiful with their thatched roofs, the small bridges super fun and the view from the water wonderful. We discovered Giethoorn with a whisper boat, which we were allowed to drive ourselves (for a whisper boat check out sloop rental Giethoorn).
The advantage of being on the water is that from the center it's all one-way traffic. No need to be afraid, if you are not an experienced boater. By following the signs you automatically sail a circle.
A tip, should the bridges get very low, you have to go back anyway, because then you have sailed too far.
A whisper boat or a tour boat
If you walk along the water you can already see the various boats. We sailed ourselves in the morning with a whisper boat. 'In the afternoon we also took a tour in a covered boat. Even though we sailed the same round trip, now we heard all about Giethoorn.
Do you want to know more, rent a boat with guide.
Read more about boat rental on the website: canal cruise through Giethoorn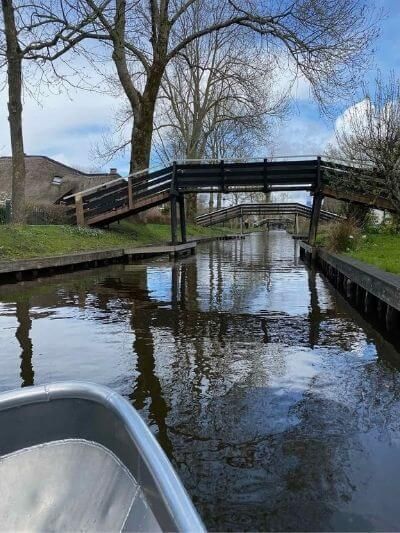 Museum visit
In Giethoorn is plenty to see and do. Very nice is museum the Old Earth, this is the Gemstone Center of the Netherlands. Here you discover the beauty of mother nature.
In the museum you see the most beautiful gems, minerals and fossils that have been collected in the museum since 1969. The museum is filled with unique collection. Among other things, you can see here the largest egg in the world, the Amethyst geode from Brazil and a petrified tree trunk from America.
The museum ends in a museum store where you can buy your own stones.
Read more on the website: The Old Earth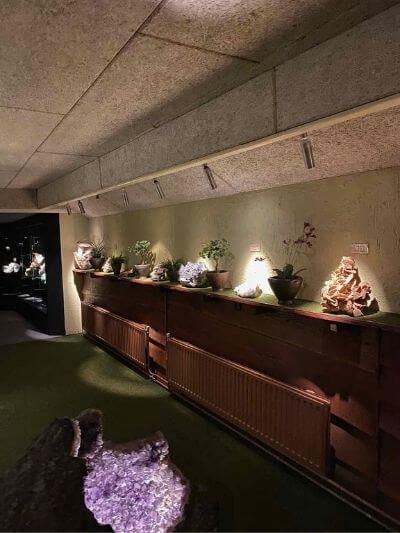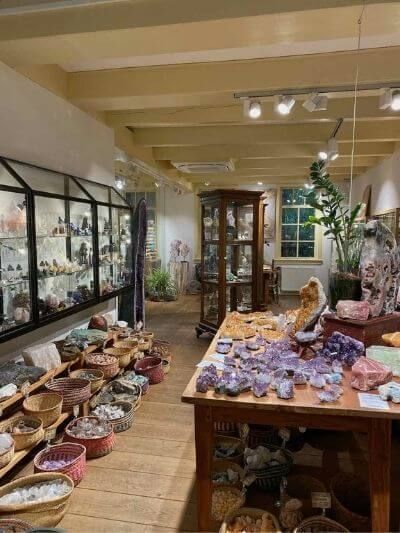 Alpaca Island Giethoorn
How sweet and woolly they are, alpaca's. At the Alpaca Island you will find contemplation and relaxation. This is what it really feels like. Just looking at the alpaca's walking around. Arian from Alpaca Eiland Giethoorn is a coach, trainer and consultant for people and organizations.
Arian always works outside, on the island, among the animals. With the island it offers a place to slow down, to recharge and to get new inspiration.
The Alpaca Island is a place for people with an (under)searching basic attitude. It is for those who want to muse on all- and non-ordinary things. Alpaca Island is a relaxing place to unwind.
Learn more about the Island: Alpaca Island Giethoorn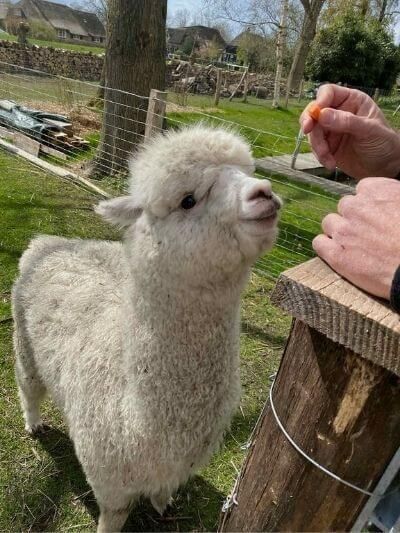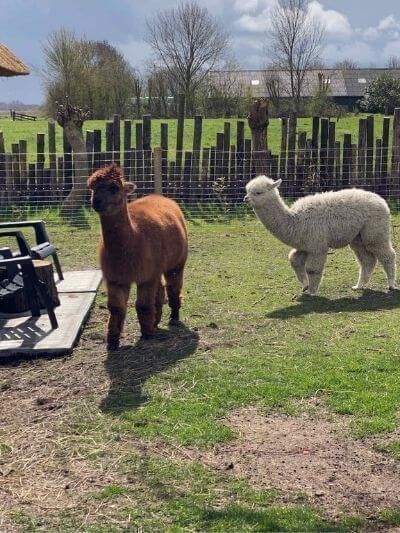 Eat a pizza at Restaurant Fratelli
While we stood on the beautiful island at the Alpaca's it suddenly began to rain heavily. Time for a break. We went to Ristorante Fratelli. Would you like to have lunch or dinner in Giethoorn then this is a must!
The restaurant has a beautiful terrace on the canal (for sunny days) located at the most beautiful place in Giethoorn. You are warmly welcomed here by brothers Davide and Salvatore. The pizza's and pasta's were delicious, the service good and the hospitality radiated from it.
All information can be found on the site: Restaurant Fratelli Giethoorn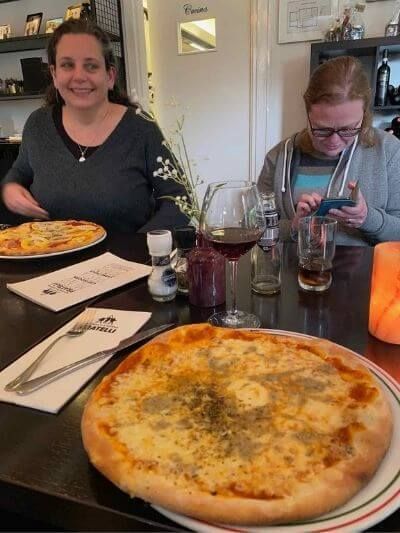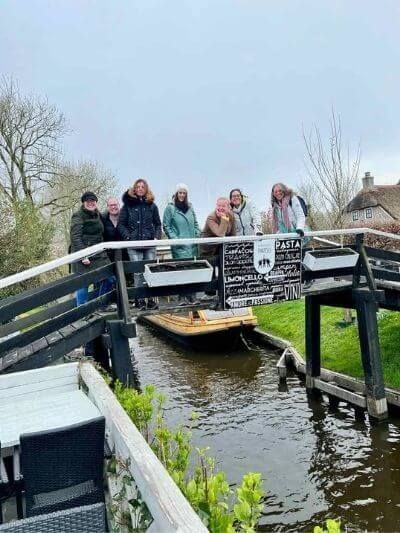 Pedal boats at Aqua Rental
We ourselves were too late (and also just too wet after a big hailstorm) for the pedal boat at Aqua Rental. So I didn't do this activity myself, but from what I heard from fellow bloggers, it was a fun experience. At Aqua Verhuur you rent trendy pedal boats for one person! From the pick-up point you can cycle right onto the water route.
Cycling past picturesque houses and traditional bridges. Cycle relaxed on a grand tour or put the bike ashore and enjoy a snack or drink on one of the many terraces of Giethoorn! With the pedal boats of Aqua rental you discover Giethoorn, again in a very different and unique way.
To know more, check out the website: Aqua Rental
Dinner at Hotel Brasserie de Pergola
We started the day at Hotel Brasserie de Pergola and ended our Giethoorn adventure here as well. We enjoyed shared dining. On the table came large wooden cutting boards with meat, fish, spinach tarts, spring rolls's and different kinds of vegetables.
We had lunch at Fratelli's, but I heard from other groups that lunch at the Pergola was also very tasty. We sat incredibly relaxed, had a delicious meal and were able to catch up before heading to the overnight spot.
Spending the night in Oldemarkt
After dinner we left for the place where we would sleep. This was in group accommodation Mooi Oldemarkt. It was a twenty minute drive from Giethoorn.
As the name Mooi Oldemarkt suggests, this is found in one of the most beautiful locations in Oldemarkt. Mooi Oldemarkt houses two group accommodations. Farm A & B are two separate rooms which can be connected through connecting doors.
Both farms have a large living room with kitchen, a private 'garden' and free parking. With over twenty bloggers we stayed at Hoeve A, where we had a pleasant evening and where I slept wonderfully in a quadruple room.
More information about Mooi Oldemarkt read here: group accommodation Giethoorn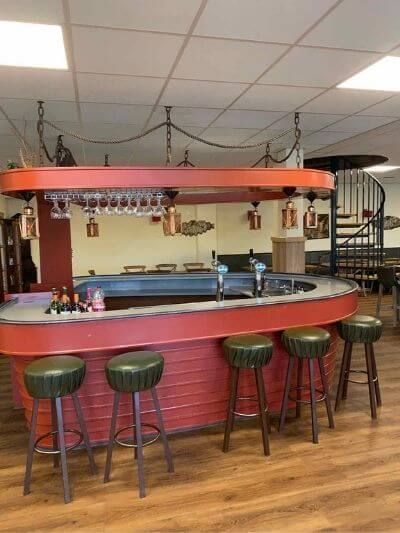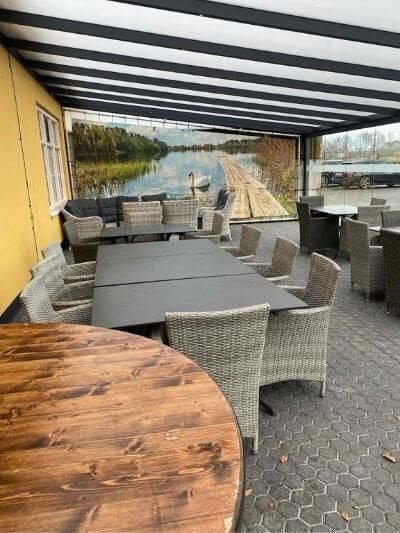 Tourist in our own country
After the past two years it is so nice to be out and about again, exploring the Netherlands and being a tourist in our own country. Giethoorn, of course, is often crowded with tourists from home and abroad. Because of the weather we were actually lucky that it was quiet and the weather did not really matter at all.
I enjoyed this weekend, was able to discover Giethoorn by boat and on foot and also saw again that we don't really have to travel far at all for a beautiful photogenic place.
Discover giethoorn for yourself! Want to rent a boat check out Giethoorn boat rentals. Here you can choose from 5 different electric boats.