HOPE Beer – Beer with a message
Summer and a fresh beer go well together. Are you a beer lover and do you like to taste new flavors?? HOOP Mon Cherry is a charming, fresh, characterful 4.1% cherry beer from Hoop Bier.
The sun king of summer beers and also one with a story.
Special beer tasting
I like a beer. Just a beer or a special variety, the latter I especially like when it is hot, after climbing or if there is something to celebrate. Just a little extra.
Often this is a Leffe Blond or a Grimbergen, but how nice it is to be able to try other brands as well.
New at Hoop Bier
Hope beer I know from the special beers for special occasions like 'De Zaanse Schoen' which was specially brewed when the Sinterklaas entry was in Zaandijk. Brewery Hope is from Zaandam. This year the Zaanpride was the reason for a new beer.
The first Zaanpride was scheduled this summer. Since big events cannot take place this year, the hope is for next summer!
Hope is alive
There is a new kid on the block in the beer scene and what a kid it is!
HOPE is alive! HOOP known color: all colors of the rainbow! Mon Cherry is brewed to celebrate diversity, man in all his colors.
In developing the beer, the brewers joined forces with the Zaanse Regenboog, which would celebrate the first Zaanpride this year.
It doesn't get any better than this!
Mon Cherry is one of those summer beers that instantly puts you in a good mood. This limited edition is a real summer friend. Ideal for an afternoon in the sun on a beach or terrace. Brewed with sustainable barley, refined hop varieties and that mysterious but indispensable component yeast.
Not to mention fresh fruit. Do not be fooled by the red-pink color. Mon Cherry is not artificially sweetened – you only taste the fresh sour taste of cherries.
Pure nature! Put it cold and drink it with friends and family. Because freedom is something to be toasted!
Mon Cherry summer fresh
Mon Cherry is an elegant summer beer that will instantly put you in a good mood. The Mon Cherry has a slightly bitter base and a subtle sweetness due to the addition of kilos of black cherries. The cherries give it its pink color. A colorful thirst quencher in your glass with only 4% alcohol.
Share hope, share pride!
Cherry beer is a favorite
I love cherry beer and normally I am the only one in this, my husband often finds in cherry beer the taste of the cherries (duh! That's the point) too strong. That is certainly not the case with Mon Cherry and he too found this a delicious fresh beer.
The cherry flavor is present but subtle. The freshness of the taste makes it ideal for a summer day!
Queen Bee
Now I was also surprised with 'Queen Bee'. A blonde ale with a slight hint of honey and this is another truly special beer for a hot summer day. The taste was fresh and very surprising because of the honey.
I think it's so cool that beer can have so much more flavor than just the familiar beer flavor!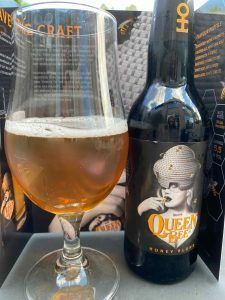 HOOP beer symbolizes Dutch intransigence.
Tasty beers, accessible but with character. Each HOOP beer has its own name, taste and story. Now ironically, Hope is also hugely symbolic of the times we live in. The adage 'Hope springs eternal, Life springs forth a drink' takes on unexpected and unintentional meaning.
In other words, there is always HOPE!