Children's book and gift books, children's room accessories and more
Are you busy shopping for gifts for the holidays? Then remember that it will be Black Friday from Friday and can buy your items with a discount. This is also the case with children's book and gift.
Here you will find a lot more in addition to children's books! And now with a discount code for Black Friday!
Unique web store
Due to the many children's books, you also occasionally see what is for sale now? Children's book and gift is a well -arranged web store with the well -known children's books, which you know by name. But you will also find gift items around these children's books.
And that makes this web store so unique!
Children's books and gift
Because how nice is it to give another gift in addition to a children's book that has to do with this book? Surprise your son, daughter or grandchildren with many fun accessories around the characters from the children's books.
Clear web store
On the website you will find these accessories immediately clearly around the children's books and then think of hugs, games, postcards, calendars, children's service, but also articles for the nursery as wallpaper or wall stickers.
Which characters do you find here
As a parent or grandparent, it is of course super fun to read the (grand) children from, for example, Miffy, Jip and Janneke, Woezel and Pip. Frog or Dikkie Dik. What makes it even more fun is when the children can play with the matching hugs themselves or have a nice poster or wall sticker of this character hanging on the wall in the nursery.
Nice for the nursery
Furnishing a children's room with the most beautiful children's book illustrations of the best draftsmen. How good this sounds? Consider wall stickers (from Jip and Janneke or Pluk van de Pettenflat) or a lamp from Pim and Pom.
Pim & Pom Vinyl-Muursticker Van Kek Amsterdam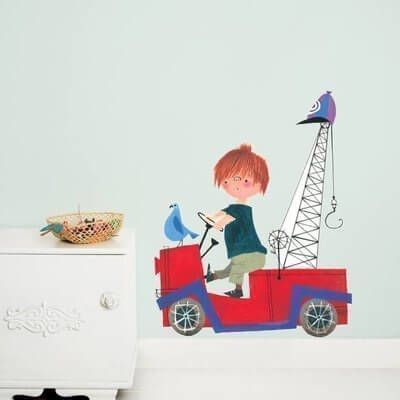 Pluk van de Petteflet large vinyl wall sticker from KEK Amsterdam
Buy with a discount on Black Friday
Are you looking for nice gifts for December 5 or for under the Christmas tree, you can now shop on the website of Kinderboek and gift with a discount on Black Friday (from Friday 27 to Monday 30 November, but the discount code already applies now). The discount is 10% on non-books and free shipping (the books can be sent for free if you also order a ' non-book '. Use the code: Cybershoppen2020